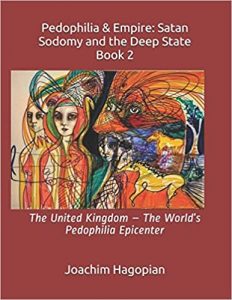 We are proceeding with PRINT production — a five-volume set that will help our President educate the American public first, then other publics as to the deep Satanic pedophilic nature of most of their leaders. Each volume is 8.5 x 11 full page size, with the footnotes displayed on the pages rather than as endnotes. Each book has its own index. This is a PhD-level reference work highly relevant to the campaign to take down the Deep State and the Satanists, Pedophiles, & Secret Societies that Torture Children and have cheated hundreds of generations of humanity of their inheritance.
Linked Table of Contents Below  the Fold
Foreword by Robert David Steele
Chapter 1: The British Royal Family, Pedophilia and the End of a 1200-Year Parasitic Monarchy [Orignally Chapter 33]
Chapter 2: Sir Jimmy Savile: British History's Biggest Pedophile, Sexual Blackmail Kingpin, VIP Pimp, BBC Pedophile Ringleader and the Massive Cover-up  [Originally Chapter 19]
Chapter 3: Savile: Occult Death Cult Practitioner of Satanic Ritual Abuse, Necrophiliac & Best Friend of Britain's Deadliest Serial Killers [Originally Chapter 20]
Chapter 4: The BBC, Sir Cliff Richard and Why Pedophilia Rules Britannia [is included in electronic chapter that was too long and split in two for print.]
Chapter 5: BBC Pedo-Ring's Deadly Silencing of Those Who Knew Too Much – The Jill Dando Murder and a Dozen Suspicious BBC Deaths [Originally Chapter 21]
Chapter 6: Sir Jimmy Savile and Margaret Thatcher's Pedo-Love Affair [Originally Chapter 22]
Chapter 7: Tony Blair, his Pedo-Infested Ministers and how Zionism and Pedophilia Reign Supreme [Originally Chapter 23]
Chapter 8: Heart of the Westminster VIP Scandal and Cover-up – Elm Guest House and Dolphin Square [Originally Chapter 24]
DONATE to the Author via PayPal — Please! Supports next print book!